Life is a long journey with many unexpected twists and turns for all of us. Tamika Tabb's experience is no different, although one of her bumps in the road came a little earlier than she anticipated.
This bold, friendly, and bright young woman grew up in a tightly-knit and religious family in Williamsburg, Virginia. She lived with her grandmother, her mother, and her brother Mike.
"Mike and I were raised in the church. I would go to bible studies on Wednesdays, choir rehearsals on Fridays, and I was in church every Sunday morning," Tamika recalls.
Growing up with deep religious roots provided Tamika with a lot of structure and support, but like many young people, she desperately wanted to find some freedom and fit in with other kids her age. This desperation forced her hand as she tasted more freedom when she entered high school.
"I didn't think I was living my best life, and when I got to high school, I tried to be more of an adult before I really needed to be," she tells me. "I followed the crowd and went along with the tide, doing what everyone else was doing. And toward the second half of my freshman year, that all caught up to me and I found out I was pregnant. Nine months later, I gave birth to my daughter Ya'Ria."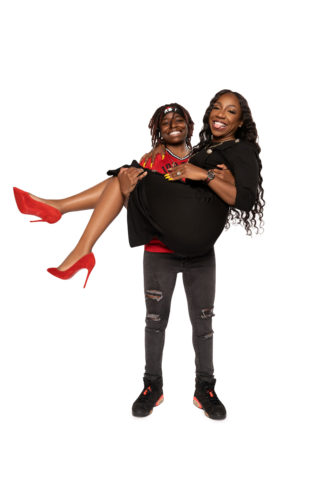 An eternal structure and an eager angel
Tamika's pregnancy at age 15 wasn't what her family, her church, or even she had in mind for her freshman year of high school. And although it complicated and tested their relationship, Tamika's family never wavered in their support, pushing and encouraging her to achieve her goals, which included a college degree in accounting. But Tamika and her family would navigate troubled waters before enjoying a smoother ride.
Tamika grew up across the street from her community's church, with her family heavily involved in church leadership. For many years, Tamika stood and sang in the choir, with her mother playing piano, but once she was pregnant, Tamika was asked to sit down.
"They pretty much said, 'Hey, when you start showing it doesn't make sense for you to stand in the choir with the other children.' My family was looked up to in the church, and they didn't want other children thinking it was ok to get pregnant," explains Tamika. "I didn't necessarily agree, and it did cause a little bit of friction because I felt like my family didn't have my back. But, as I've gotten older, I understand it a little bit more, but it was still hard to deal with."
Although Tamika had to step back from her role in the church, she found support in other places. The teachers at her high school would drive to her house to drop off assignments and kept her on track for graduation. Tamika's high school principal also helped shape her response to teenage pregnancy.
"I had an angel, my high school principal. He encouraged me to live past my situation and to understand we are all tested throughout life. He taught me that a testimony doesn't come without a test."
Her high school principal was involved in a teenage pregnancy prevention group with his college fraternity, and he encouraged Tamika to share her story at one of their events. It was the first opportunity for Tamika to own her experience and pass on the lessons she learned to others.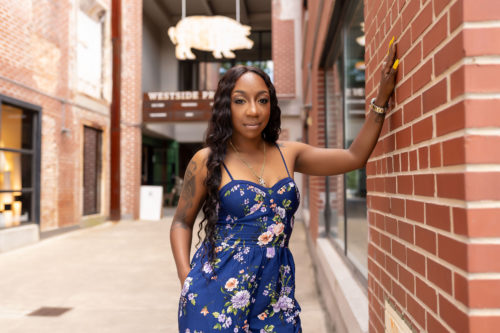 "I was already talking to peers that were doing things that could result in pregnancy, so it wasn't as hard as I thought it could be. Over time, I became a mentor to other girls who were going through a similar situation but didn't have the family support that I did to get the motivation to finish high school."
It was this same amazing support from her family that gave the young mother the freedom to complete high school while raising her daughter, Ya'Ria. Even with a child, Tamika was determined to graduate college, and though she couldn't participate in internships, or go to as many parties, she embraced the lessons she could learn from her daughter and family along the way.
"My family made sure I stayed focused on my education, which led me to college. I went to Virginia Commonwealth University, which was about an hour and a half from my hometown. My grandmother, my aunt, and my mom pretty much raised my daughter during my freshman year."
Finding balance after a shift in perspective
Even with her family and mentors behind her, Tamika was still very much growing up herself. Going to college gave Tamika a new lease on freedom, which she was all too eager to enjoy, but she quickly learned from her choices in freshman year.
"It was like being in an amusement park and riding every ride for the first time," says Tamika with a laugh. "I wanted to go to every party, so I would make up stories to my mother, tell her I had to study for this big exam just so I could hang with my friends. The next day I would feel extremely bad, because I realized I didn't spend any time with my daughter just because I wanted to be a semi-adult."
"It took me a while, but I learned what it meant to be a parent first. That's when I learned how to say no, I can't do that. I had to let people know why I couldn't attend the party, or the dinner. I couldn't hide my daughter anymore," Tamika says honestly. "I think life forces us to grow up even more. It helped me become very focused in the second half of my college career. I had my own apartment and I worked it out for my daughter to stay in Richmond with me. I didn't go home for the summer anymore, and I prepared myself to be a full-time parent."
Raising Ya'Ria
Tamika was filled with insecurities for both her and Ya'Ria's sake. There was the constant worry that inquisitive, judgmental onlookers would try to calculate their ages. As Ya'Ria grew older, however, Tamika fully embraced her story and became an even more active parent for Ya'Ria, as well as for her daughter's friends.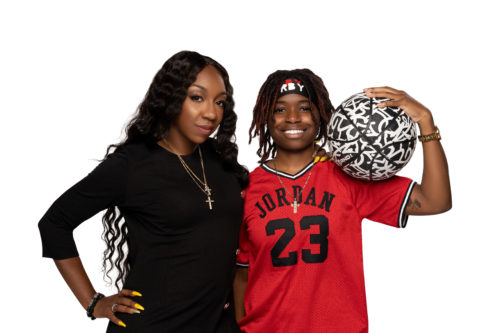 "When my daughter started playing basketball, I began utilizing the fact that I was successful as a teenage mom. I had a good career and could provide financially for my family. I wanted to use my story as an example for other girls and even boys in her class," shares Tamika. "I realized I started becoming more of a parent to other people's children. I connected with the daughters or sons of older parents just because of my age. I think that same age difference has made my daughter and I very close."
Tamika has worked hard to instill positive values in her daughter, and while she stressed she will always be a mother first, Tamika is also committed to being Ya'Ria's friend. Their unique mother-daughter relationship has no space for judgement and ample room for mutual growth and respect. The strong values Tamika has passed on to her daughter have inspired Ya'Ria to pursue her own success in the form of an apparel line.
"My daughter's name is Ya'Ria, but her friends call her Yari," says Tamika. "They joke and say Yari Ferrari. So she started a clothing line called RARI, which stands for Real Ambitious Resilient Individuals. I think the entrepreneurial knowledge I've learned through my career has inspired her to blaze her own trail."
Ambitions for the future
From being encouraged to step on stage by her high school principal, to embracing her unique relationship with Ya'Ria and her friends, Tamika has been building toward her ultimate goal: providing a scholarship and mentorship for teenage mothers.
"I wanted to give back and provide some support for young girls who share my experiences," says Tamika. "I've offered the scholarship for two semesters now, but no one has applied. It's made me realize that sometimes people are so insecure about their situation that they don't reach out for support."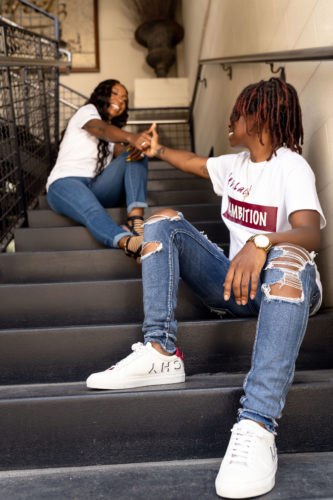 Tamika is still committed to offering the scholarship, as well as serving as a mentor to the chosen recipient. "It's not just about offering some financial help. I want to serve as a mentor to that young lady and her family, to support her and let her know she has a voice and a future."
The scholarship is going to be marketed and made more widely known in the coming months, but Tamika has still found ways to help other teenage mothers. The confident, business-minded accountant has a side cosmetics business and offered a free spa day and gift card for a teenage mother before prom. "We all like to look good, go to the dance, and maybe get something to eat after. It's all part of the experience of growing up."
Beyond her own story and impact, Tamika wants to share the story of her daughter. "I want to have the ability to speak on a larger platform, but I also hope to have my daughter on stage with me, sharing her side and perspective of the story. You don't get to hear that side very often, but the child is deeply affected by the journey and very much a part of the story."
#WorthMentioning
Before majoring in accounting, Tamika had plans to become a nurse: "I took one anatomy class and knew it wasn't for me." Tamika also has a minor in Psychology.
Tamika has started a beauty business on the side, providing lashes, hair extensions and her latest addition of whipped body butters. "I love a good body butter, so I spent a lot of time on YouTube just figuring out how to make my own organic formula with the consistency of my liking."
Ya'Ria's clothing line is completely hand made. "I gifted her a Cricut machine and heat press machine so she that she is able to have full creative control on all the apparel designs."