Facing challenges and experiences that scare you is important for your personal growth. For Marcus Hemenway, Senior Manager and Team Leader in Siegfried's Boston Market, his journey as a marathon runner has been riddled with roadblocks, both physical and mental. But by refusing to be discouraged, remaining persistent, and shifting to a more forward-thinking perspective, Marcus has accomplished goals he never even dreamed of and learned that happiness and achievement would not be possible without challenges along the way.
Despite coming from a family of athletes, Marcus didn't enjoy running growing up and considered it the "worst part" of his football and basketball practices in high school. His personal running journey didn't begin until he went to college and realized he wasn't getting the exercise he needed in his daily routine. To become more active, Marcus started off small with the goal of running three miles. "I would always look around at the other people running, and I vividly remember seeing people run five miles on the treadmill or eight-minute splits and thinking, 'Wow, that's crazy.'"
Pushing himself further
At first, Marcus was simply focused on getting those three miles done and remaining active. He accomplished his initial goal of incorporating exercise into his schedule, but he had not yet challenged himself beyond that. Eventually, his girlfriend, Liz, began running alongside him, and together, they completed a 5k, followed by a 10k shortly after.
The adrenaline and excitement of Marcus' first group runs inspired him to push himself further. When the opportunity arose for Marcus and Liz to run a half marathon vacation race at Joshua Tree National Park in California, they decided to courageously tackle this next step. "We doubted ourselves a little, but we both realized we enjoy and do our best when we're challenged."
The route's dirt and sand path, along with rolling hills, proved to be a taxing, yet rewarding experience. "It was totally worth it – seeing how far your body can go and what you can achieve if you set your mind to it. To be able to cross the finish line and feel accomplished is a high that transcends the physical feeling. It's a feeling I've been chasing ever since."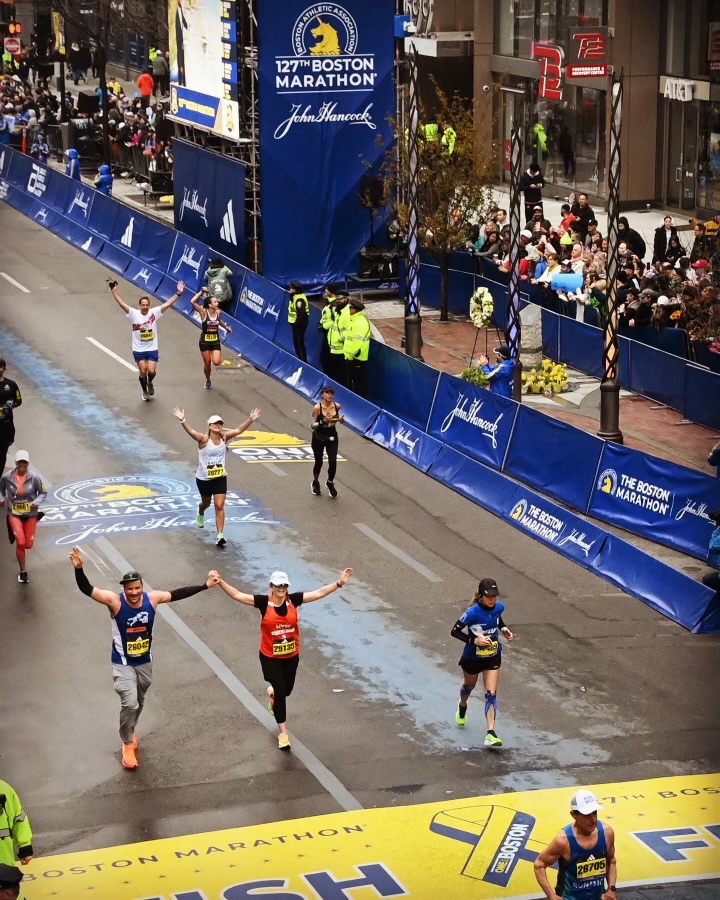 Getting through the good and the bad
After completing his second half marathon, Marcus found himself missing the sense of accomplishment that accompanies succeeding at something new. So, when a non-profit he was involved with began giving out bibs to fundraise for the Boston Marathon, it seemed like the stars had aligned. From there, Marcus and Liz began the rigorous process of fundraising and marathon training.
The couple sold wreaths, bartended, hosted events, and reached out to corporations to fundraise, all while tackling the daunting task of physically preparing to run 26.2 miles. "Training's probably 75% of the work you put into a marathon," explained Marcus. "Marathon day is the tip of the iceberg. All that stuff below it, that's all the work. That's the sweat. That's the training. That's everything you're putting into it to make it possible to do the marathon."
During training, roadblocks and challenges were unavoidable, and running the Boston Marathon was a commitment that required consistent dedication. "Some days, you have runs where it feels amazing. Other days, your body just isn't in it. But pushing through that helps prepare you for days where it just doesn't feel right. The same concept applies to anything you do. Some days going into work, you feel great, and some days, things just don't go as well. But on those bad days, getting through it, changing your mindset, and accomplishing what you set out to do feels even better."
A shift in mindset
Marcus was set to run the Boston Marathon in April 2020, but the world shut down in March. The Boston Marathon was cancelled, and it wasn't postponed until months later, when they decided to host the race virtually in September. Participants were prohibited from running the typical route, and there could be no crowd. The timing also meant that Marcus and Liz had to restart the demanding training process they had just nearly completed. By far, this was the greatest obstacle Marcus had encountered in his running journey, and it seemed insurmountable.
"At first, we were like, 'This sounds awful. After almost completing the training for April, we have to train all over again. And if the crowds can't help energize us through, why are we even doing it? Why are we doing it if we can't run the actual Boston Marathon? What is this all for?' We were in a defeatist mindset," Marcus admitted.
After Marcus' initial disappointment subsided, he realized that his pessimistic attitude wasn't serving his happiness or growth. "We didn't start this just to quit. We didn't want to look back at this moment and say it beat us. So, we decided this was just going to be part of our story."
Marcus and Liz rose to the occasion and completed the Boston Marathon virtually. Not just this, but Marcus decided to transform their experience from a setback into a day that neither of them would ever forget, and he ran the entire race with an engagement ring in his pocket. After the couple crossed the finish line, they walked to the Boston Public Garden, and there, Marcus proposed.
Although the day wasn't what they originally planned, by shifting to a more optimistic and forward-thinking perspective, it became an even more rewarding and meaningful experience. "If I could do it again, I wouldn't change anything," Marcus reflected. "It's so awesome to think about how that moment changed from what we thought it was going to be to what actually happened, and how special it still is."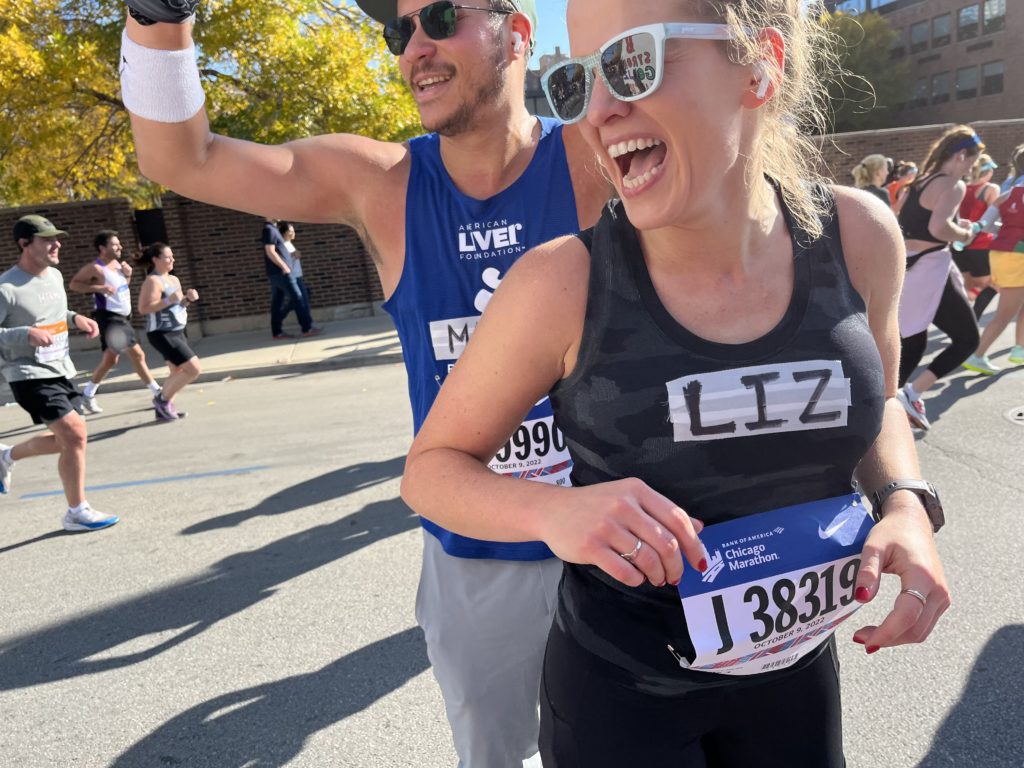 Looking to the future
Marcus and Liz have completed a total of five marathons together so far. Their most recent race was in April, when they returned to the Boston Marathon to run the actual course. Liz ran this marathon 26-weeks pregnant.
Through all the tough times training, a knee injury, and a pandemic, the couple is still dedicated to achievement and personal growth, and their next goal is to complete the six major marathons. "We're onto this new goal that I never wanted to or thought I would do. It's challenging but also inspiring."
With this growth-oriented mindset, Marcus is energized to take on any challenge that comes his way. "I'm scared. And I think that's part of the emotional journey of accomplishing something meaningful. It always starts with being scared. I was scared to run that half marathon. I was scared to run my first marathon. Now, I'm excited to do something that scares me all over again."