Margaret Lau lives with an abundance mindset; the Denver resident relishes challenges and new experiences, and attributes much of her personality to her upbringing. The youngest of six children, and the only daughter among five sons, Margaret emanates a unique confidence with a strong desire to get the most positivity out of any situation.
"Growing up with all my brothers helped me develop a really thick skin," shared Margaret. "I'm a confident person and if I do something I try to do it all the way. Growing up with the boys has helped me feel comfortable in almost any situation and pushes me to get the most out of daily life."
It didn't take long for Margaret's confidence to have a profound impact on her adult life. The Missouri native spent one year at Mizzou before deciding to move to the more affordable Truman State University, using the savings to satisfy her hunger for constantly meeting a new horizon.
Love of traveling
"My siblings and I are all one year apart and our parents did not pay for our higher education. I really wanted to get out of Missouri, but stayed in-state to save on tuition," explained Margaret. "So I made a promise to myself that every summer, I would live somewhere new. I explored the mountains in Colorado one summer, then I hit the beaches in the Virgin Islands, then I experienced the big city in New York. I wanted to try all the extremes I was never able to experience growing up."
The young globetrotter first fell in love with the road when she was 15 years old and tagged along with her stepfather to San Francisco, but only after agreeing to a special condition.
"My stepdad invited me to San Francisco, but he was going to be working during the day, so he said I have to entertain myself," Margaret laughs. "I was 15, so of course I wanted to bring a friend but he was adamant that I do it alone. As I explored the city by myself, I came to realize how beautiful and special it is to take on a personal challenge and get it done by yourself."
The experience in San Francisco opened Margaret's eyes to what the world holds and now the Coloradan considers traveling her favorite hobby.
"Everyone should get out and travel, it is equal parts humbling and empowering," shared Margaret. "I am in the middle of planning a trip. My boyfriend and I are doing two weeks, and our goal is the best of both worlds. We love to ski so we are going to Japan for a week and then we might explore Vietnam or Indonesia, maybe both!"
Back in college, Margaret's biggest dream was to make it on her own in a big city: but comparing her experiences brought her to an unexpected truth about herself.
"After college, I moved straight to New York and I thought it was going to be the greatest, but a few years later I just felt the tug of Colorado," said Margaret. "I knew then that Colorado was home; it was always home. My family grew up going on ski trips and it was just the place I needed to be."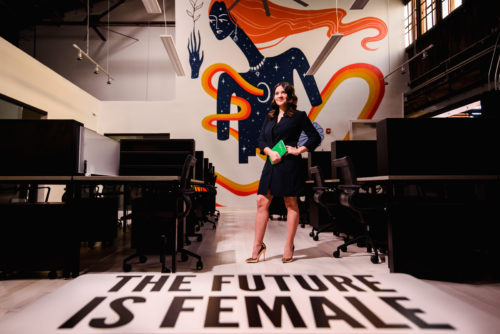 Fitting in & finding success
After returning to Colorado, Denver has not only become Margaret's home, but the embodiment of what the young adventurer looks for in a friend, and in values.
"Everyone in Denver is just really nice!" exclaimed Margaret. "The people here are everything you look for in a friend. I think the really cool thing with the culture out here is that you get what you put into it. Tons of people here have so many hobbies outside of work, but they work extra hard to be able to enjoy them to the fullest. The work-life balance here is what everyone is striving for; everyone is intentional on how they divide up their time and energy. Siegfried simply belongs out here."
The lifestyle and culture of Denver shines through Margaret's own beliefs. A robust work-life synergy of her own allows her to travel, but has also brought her to profound insights about what success means to her.
"Success is developing into a leader that can change things for the better," said Margaret. "A single act of kindness is success to me. I always try to treat the world better than it treats me. Something small to you could mean so much to someone else, changing their whole day for the better."
#WorthMentioning
• Once while in an Uber pool, Margaret befriended a woman who was having a hard day. The conversation led to 6 a.m. pancakes and then to a close friendship. "I ended up introducing her to a wonderful friend of mine. Fast forward to this summer and I stood next to them as they got married!"
• Honesty takes the top spot for qualities to look for in a friend for Margaret. "Honesty is really important; you have to be real with yourself and with others," shared Margaret. "An honest answer is the basis of a tried and true friendship and I adore the men and women who have created open and collaborative spaces to talk and learn from one another."
• During the winter Margaret spends her weekends slope side – one of the many reasons she decided to make Colorado home.
• Earlier this month, Margaret started a new role at Siegfried, as the Relationship Coordinator for our West Region. In this new position, Marg will inspire, coach, and guide our employees to be successful in building their networks for their own personal and professional development. "It's extraordinary that Siegfried recognizes the importance of this role and I could not be more excited to grow alongside my peers."