We celebrate success, good memories, and laughter above all, but often these stories are born out of challenging situations. Deandria Johnson, a Senior Manager in our Atlanta Market, felt lost and hopeless after the passing of her closest friend. Through perseverance and an open mind, Deandria recreated her happiness by changing her thinking, connecting with the spiritual reality around her, and developing a reiki practice.
But before Deandria's journey of self-discovery and a shift in her mindset, she was just one of many children in a large family in Queens, New York.
Embrace your roots
Deandria's grandparents moved from Alabama to New York, where Deandria's mother would later meet her father. Both of her parents were part of large families, which set the stage for Deandria's active childhood community of siblings, cousins, and neighborhood friends.
"My mom is the oldest of five and my dad is the middle child of six," shares Deandria. "My mom was always the go to person in terms of helping my grandmother around the house, and after my parents divorced, my mom became the main provider for me and my siblings. I learned how important a strong work ethic was early on."
Deandria's father was an entrepreneur and built a business around filming, entertainment, and advertising. A young Deandria would be featured in several commercials on major networks, growing her confidence despite her dislike of being on camera.
As a child, Deandria was also surrounded by aunts, uncles, and cousins, who were all cared for by her grandmother. "My grandmother Martha really instilled family and community values in us. She would host cookouts for our family and everyone on the block would come out. It felt like we were all a part of something bigger."
An early influencer
The collective unity Deandria experienced throughout her childhood shaped her extroverted personality. A self-described social butterfly, she was well-liked and participated in many activities outside of school.
"When I was in school, being popular and excelling academically didn't mix, but I proved that stereotype wrong fast," laughs Deandria. "School always came easily to me. And I was very influential, people knew me for being social and popular, but also for being successful. Everyone knew I was going places."
By the time she was in high school, Deandria's charisma and intelligence were in full force, and close friends and acquaintances alike would reach out to her for advice. "People knew that I did my own thing and I never followed a trend or someone else. I had such a big family that I didn't need people at school to validate me. I was trying to live up to my cousins and the standards they set."
Deandria's cousins were part of the early hip-hop movement and started a record label when she was a child and hip-hop has been a continuous presence in her life since. She participated in hip-hop dancing, was part of the step and flag teams, and participated in other activities throughout her childhood. Being close to the music business exposed her to the fun and artistic side of life.
"When I was in ninth grade, my cousin took me to an industry event for the record label and we got to meet Amerie, 3LW, and several New York Jets players. It was a really special experience, interacting with that culture and group of people. We didn't have much, we worked hard for everything we had, but the music really made me feel there was something special about my life and upbringing."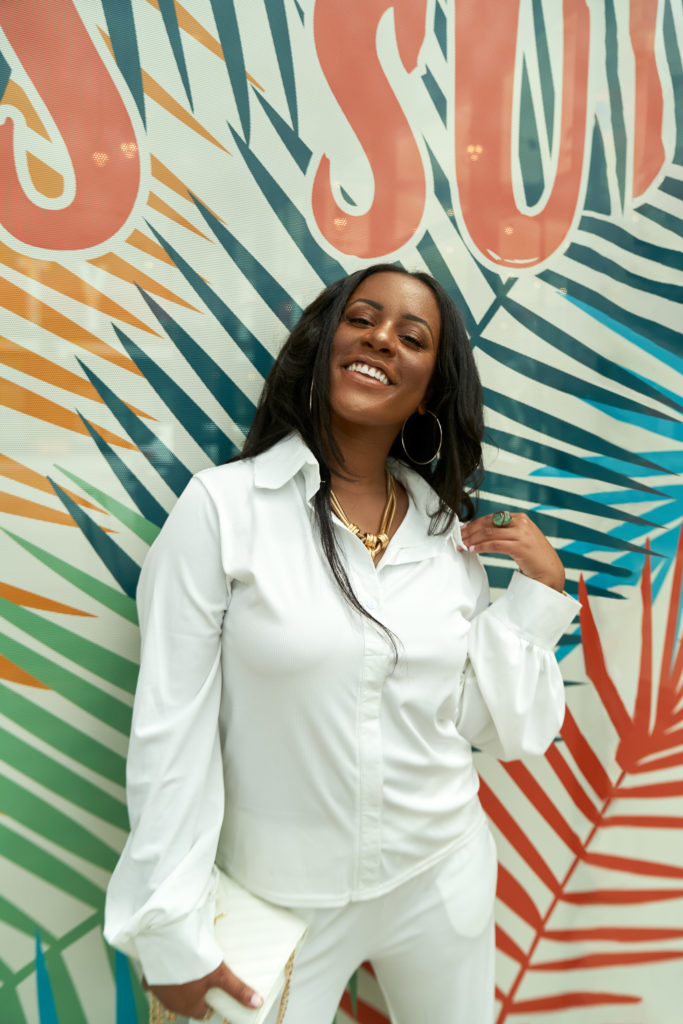 The bridge to a new life
Because of her academic excellence, Deandria was offered a full scholarship to Florida A&M University. Her entire life and network were based in New York, and while she was anxious to leave home and be so far from her friends and family, she rose to the challenge of living somewhere new.
"The full scholarship and having no debt coming out of college was really attractive to me," explains Deandria, "and so was the weather!"
Throughout college, she made friends and peers from around the country, taking advantage of her new environment. She also made the most of the school's programming, studying abroad in China after being selected by one of her professors. Deandria convinced a close college friend to join her and once they arrived in East Asia, they were exposed to a different way of life and thinking.
"The people in China were very big on Chi," shares Deandria. "Chi is this life-force energy that flows through the universe and connects everything in the physical plane, so humans, plants, animals are all connected through this energy source. I didn't delve deeply into it during my time in China, but I'd constantly see people doing Tai Chi early in the morning and I could feel that were was something special there that I didn't yet understand."
An unwelcome change
The experience in China left a mark on Deandria, but after graduating from Florida A&M, she returned home to New York with a fresh job and an inexhaustible desire to make up for five years of lost time with her childhood friends. The joy and excitement were short-lived following the devastating loss of one of her closest friends, Stanley Sagesse, in a car accident.
"I always stayed in touch with Stan in college, and he grew up around the corner from me. We would walk to and from school together and we built this incredible bond of sharing every detail of our lives with each other, good or bad. When I found out he passed, my life completely changed."
With her world turned on its head, the charisma and passion that defined Deandria's character wilted away. "I had always been a happy person, but that all changed. I didn't want to talk, I didn't want to go anywhere, I was completely down and out and there was nothing anyone could do."
Her mother and brother in particular tried to support her and offer a comforting shoulder, but nothing seemed to help her feel more like herself. "I started asking myself all these existential questions, you know: 'Who am I? Why am I here? What is this world even about?'"
Beyond the power of her childhood network of friends and family, Deandria built a strong faith through her grandmother Martha. "She always said if you want to talk to God, you can talk to God, so I've always felt God's presence in my life." As she moved through college, an internship, and eventually the beginning of her career, she felt God's presence as doors opened for her and life flowed easily. "But after this tragedy, I just wanted to know, where's God now? I wanted to know why God took my friend from me."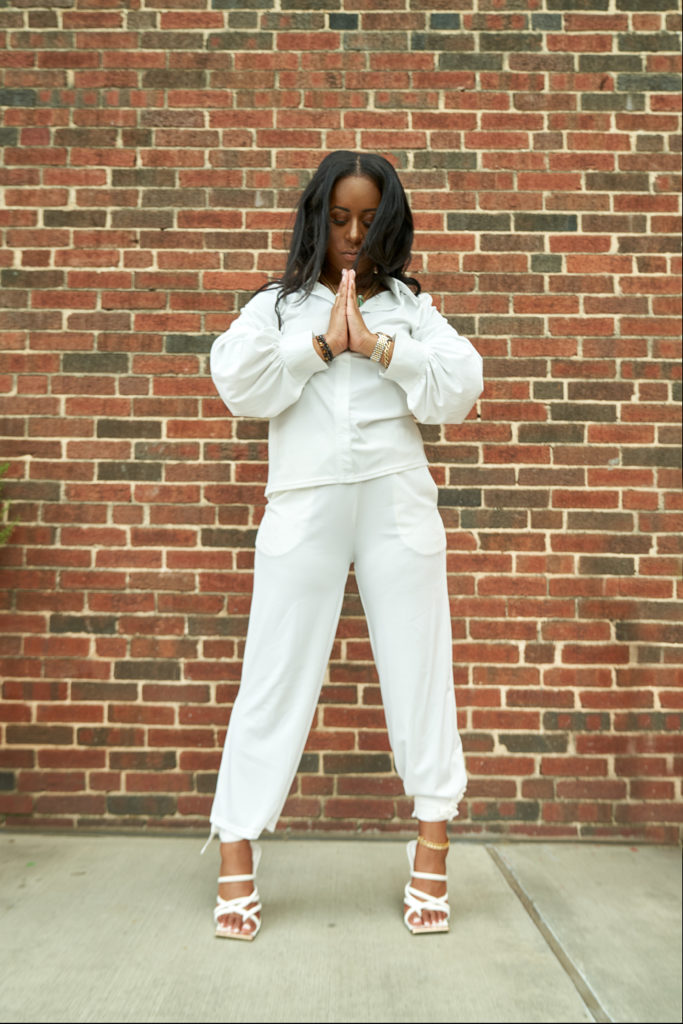 A quest for knowledge
As she grieved, Deandria isolated herself, feeling for the first time in her life a social anxiety. Eventually, being alone put her on a path to knowledge and understanding of purpose as she grappled with answering some of life's most enigmatic existential questions. She read about ancient civilizations and cultures, about the importance of yoga to some of the earliest Eastern societies, and the focus of early humans on the metaphysical.
"I had never been into physics in high school or college," she shares. "But, I really started digging into it to understand the universe, why gurus viewed us as multi-dimensional beings and how we are all made from atoms, which are just empty space. I knew that there's got to be something in that emptiness that we're just not understanding."
This quest for self-understanding led Deandria to connect with Chi, which she was first exposed to during her study abroad in China. Chi, the energy source in all life and a meditation practice, brought her to a defining conclusion for her path forward: "Through meditation, I realized that God is the only true reality in all of our lives. And through physics, I had learned that we were all interconnected. I realized that the things we align ourselves with in society to give ourselves identity is what creates separation and differences. The truth is that there's so much commonality across all living things, tying us all together. We are One."
Redefining life
Pushing through her pain and loss led Deandria to truly define what life meant to her. It reshaped her vision of herself and her life moving forward, gave her appreciation for her existence and accomplishments, and excitement and hope for how the future could be.
"It brought me to this realization of how much power I have within me, and that I have the power within me to heal myself, which brought me to reiki," shared Deandria.
Reiki is the ancient Japanese practice of energy healing in which a person uses their awareness to manipulate the Chi within their body to repair physical and mental wounds and ailments. Reiki is derived from two Japanese words. The first, 'rei' means 'universal life' and the second, 'ki' means 'energy.'
"If you think of your body as a vessel for your mind, or your awareness, then that awareness can be unlimited and exceed the confines of your body as a vessel," explains Deandria. "So reiki is being able to use your mind, or awareness, to tap into Chi, that unlimited energy existing within and connecting all of us, to bring about healing."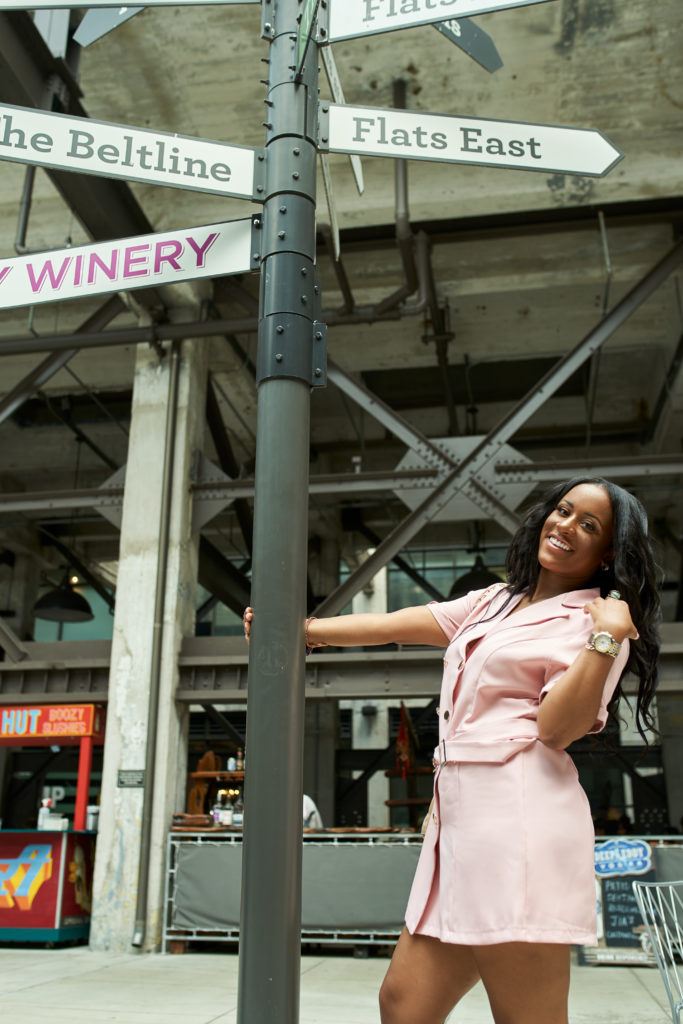 The power of energy-healing
Through reiki, Deandria turned her life on its head once again, but this time for the better.
"I was just enthralled by life again," exclaims Deandria. "I started sharing what I learned with everyone around me, and of course as an accountant, I know people need that hard evidence because this type of thinking isn't always accepted in Western cultures. But the only way you'll truly know is if you try it for yourself and if you're honest with yourself. We too often take the avoidance approach, but if you confront your issues head on with a mindfulness practice such as reiki, you can start making real improvement. I didn't come from a lot of money, so I've used Reiki to fight my limiting beliefs around money to empower me to break the mold and pursue my financial goals."
Sharing reiki with others
Since diving into reiki, Deandria has moved through two certification levels, and is in the process of achieving the third and being certified to attune others to become reiki practitioners. Inspired by its benefits and determined to share it with others, she hopes to bring people happiness as well as opportunity through engaging with the same energy she does.
Deandria created her own brand, Sovereign Lifestyle, to inspire others to tap into this divine source of energy within to bring about healing mentally, physically, financially, and spiritually. She even began managing her own investment portfolio, breaking through some of her previous barriers.
She's used her reiki practice on more than just mental battles. If Deandria has a physical ailment, she tailors her reiki practice to bring physical healing, with great success. This practice and approach have defined how she views personal growth and improvement, choosing to focus primarily on internal effort as opposed to external remedies.
"There's so many distractions in the world trying to hijack our awareness, but I find that by staying focused on you, the individual, helps attract more of the things you truly want in life."
It is impossible to prepare for loss and grief. But Deandria found determination and perseverance within to change her mindset and embrace a new way of thinking to find the beauty in life again. The world is filled with myriad philosophies and lifestyles that may not work the same for everyone, but Deandria's journey proves that diving fully into oneself brings great reward.