Noelle Harper is a positive, charismatic, intelligent, and driven professional, but she likely wouldn't tell you that. Instead, Noelle says simply, "I'm passionate." When I tell her that much was clear from our conversation about her career, she smiles.
Through a focused and successful career, Noelle, an Associate Director in Siegfried's Washington, D.C. market, has learned many life lessons, but most importantly, she's learned more about herself and how to achieve her own happiness. Noelle credits her mother with developing her independence and leaving a legacy of faith and fortitude.
Lessons from family
Noelle grew up in Rocky Mount, North Carolina, surrounded by her large family of many aunts, uncles, and cousins. "My mom was an identical twin and one of eight," shares Noelle. "When I was 11, my father passed away, and all of a sudden, it was just me and my mom." After her dad passed, Noelle and her mom moved to Greensboro, NC, where she would attend middle school, high school, and college to prepare to embark on this journey called life.
Before Noelle graduated high school, her mother sat her down to have a tough conversation. "You're 15 now," she said, "and I will not raise a spoiled brat. You will get a worker's permit and a job because you need learn how to take care of yourself in case something happens to me." An only child of a single mother in a large family may not sound like the formula for a spoiled child, but Noelle doesn't feign innocence. "I was a spoiled kid and had everything I wanted and more. I wasn't rotten, but I was certainly headed in that direction. Anything that I asked for, my mom made sure I had it, until she made me get a job." Noelle laughs.
And with this harsh reality, Noelle stepped into the workforce as a 15 year-old. Her first job was as a sales associate in the children's department at Belk. Knowing that her sweet 16 was just around the corner, Noelle thought she had figured out the real reason she had to work: to pay for the gas in the car her mother would buy her.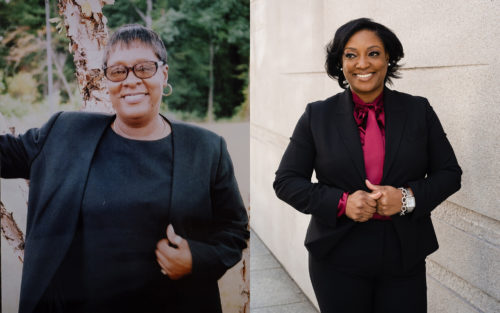 She approached her mom about the iconic teenage gift only to encounter another life lesson. Her mother told her, "Noelle, if you get a car, it will be because you bought it." Unlike many of her classmates, she relied on her mother for transportation until her first year of college, but one day, enough was enough.
"It was one too many times of my mom saying, 'You can't take the car, I'll take you where you need to go.'" So Noelle called a friend and asked to go to the dealership.  "My mother was furious because I made such a large purchase without her, but proud because I was stepping into the person she wanted me to become. I bought a 1996 Mazda 626 and I still have it in my garage. It's very sentimental to me."
Finding a career path
Education was the driving force of Noelle's childhood and she naturally gravitated toward academics and extracurricular activities. Noelle was an active and gifted student, and because of her dedication and open-minded attitude, she rose to the top of her class. She participated in sports, the band, and her peers elected her class president.
When she arrived at her alma mater, North Carolina Agricultural and Technical State University, she was poised to pursue a career in law, equipped with a degree in political science. A conversation with an older cousin about different career paths, goals, and the schooling required to practice law shook up Noelle's initial plans.
"It's so funny how people shape your life," Noelle laughs. "After talking to my cousin, I realized I wasn't going to make the type of money I wanted to make in four years if I were to continue down the path of becoming a lawyer. The additional law school requirement aided in the decision to change my major the first day on campus."
Noelle wanted to be an accountant, but to start, she had to apply to the university's business school. The young college student quickly realized that her high school AP courses meant she could skip the majority of her freshman course requirements, but with a mindset true to a college campus lifestyle, Noelle instead chased the full freshman experience: "I had it all mapped out! I would retake the courses and get A's to increase my GPA, just in case I had issues in the future with one too many nights of enjoying the full college experience, or balancing the academics with work."
And work she did. Noelle lived at home through college to save money, but still worked three jobs to pay for her car and cover tuition. Her job as a volleyball coach, in particular, set her apart from her peers and helped her develop her leadership and collaboration skills, paving the way to later pursue a successful career in accounting.

Learning from coaching
"Playing a sport and coaching a team both provide lessons that can be applied on and off the court," explains Noelle. "When you are playing a sport, you learn that dedication, determination, and desire are an integral part of whether you win or lose. When you are coaching a team, you learn how to use strengths and weaknesses to your advantage, how to inspire when morale is low, how to make decisions and hold yourself accountable for the decisions you make."
The young coach enjoyed three consecutive winning seasons, but her fourth season as coach brought new challenges as the team struggled to win. In this unfamiliar environment, Noelle learned how to unite a group of people around a common goal, and how to connect with an individual to inspire critical collaboration.
"I questioned my decision making, whether my coaching style needed adjustments," shares Noelle. "But more importantly, I realized I had to coach people on how to accept disappointment, how to play your position, how to trust others and learn from mistakes. Dr. Martin Luther King Jr. said it best: 'We must accept finite disappointment, but never lose infinite hope.'"
When it was time to start considering career plans, Noelle prepared for the on-campus recruiting visit of the largest national accounting firms. Noelle sought the advice of one of her accounting professors where she learned to tap into her unique skills.
"I didn't participate in many college activities, which was something the firms were looking for, but my college professor advised me to interview and to talk about what separated me from my classmates."
In an interview with Arthur Andersen, a former Big 5 accounting firm, Noelle was asked to explain what made her different, and she was ready. "I shared my experience of being a volleyball coach for the junior varsity volleyball team at my high school. It was one of the most impactful experiences of my life because it taught me about leadership, not only for myself, but for others."
Arthur Andersen hired Noelle for their Washington, D.C. office which sparked a long and committed journey of professional accomplishment before Noelle arrived at Siegfried.

Life beyond work
After Arthur Andersen closed their doors, Noelle joined EY, another large accounting firm. It was with EY that Noelle began to understand the importance of building relationships. She left public accounting to work at a publicly traded investment company before joining Washington Gas, where she quickly rose to a leadership position during her nine-year tenure. Noelle longed for something new and interesting and began to contemplate what her next career step would be.
Having a strong faith, Noelle believes that God has helped her throughout her journey by putting people, like her family, friends, and her accounting professor, among others, in her life. "God sends these angels along to give advice and wisdom at the perfect time and based on that, I take it and run with it. I am truly blessed."
"Work was my everything," says Noelle. "Anytime someone asked for my contact information, I provided my work email and cell number. I've met some incredible at people at work and have friendships that I hope to have for a lifetime. It wasn't until a friend outside of work, an angel, asked why work was the forefront of my life that I realized that I needed to have more of a work-life balance."
Noelle soon found coming to Siegfried was the change that she needed. "I had a clear vision of what I wanted to do and Siegfried aligned with that."
She was astounded and impressed by the MY Journey® program and Siegfried's dedication to helping their employees invest in themselves. "I never knew a company would invest so much in their people to help them realize what their bigger future looks like and what makes them happy," says Noelle. "When I think about my passions and the strategic direction of my life, my mindset has been altered. What I thought I wanted in the next five or ten years has changed and I now recognize that it's a personal journey, and one that only I can take. Regardless of where my journey takes me, what I do know is that I want to continue to focus on my happiness and I vow to do this every day."

Where opportunity meets preparation
Noelle credits her mother for helping to develop her independence and understanding of success. "To me, success is not based on tangible items. It's all about where opportunity meets preparation. I have been prepared anytime an opportunity has presented itself and I truly believe that there's a level of success there."
But success for Noelle goes beyond preparation and commitment.
"When it's all said and done, and when the curtains close, as Dr. Maya Angelou stated, 'People will forget what you said, people will forget what you did, but people will never forget how you made them feel.'"
"If you can touch somebody in a positive way and be a beacon of light for someone else, to the point where now they want to do the same thing, then I think that's a job well done," explains Noelle. "If you happen to touch many lives along the way, then I think that's a life worth living."
Though Noelle lost her father at a young age, she is grateful for her mother and the way in which she was raised. "I'm actually happy that she raised me to be the independent person that I have become, because if she didn't, then I don't know what I would have done after losing her, or how I would have picked up the pieces."
Noelle doesn't quite know what the future holds for her, but she knows that it's bright and that she'll be ready for the opportunities that come her way. If she had to mention something that she has learned on her journey that's she's proud of, it is simply "I am humble enough to learn from others and gracious enough to share. I genuinely love people and I'm always willing to help where I can. It's important to lift as we climb. Everyone has a gift, or something special to offer, and it's up to us to try to find that common ground, that differentiating factor in everyone we meet."

#WorthMentioning
Noelle is a big fan of the TV drama Yellowstone, starring Kevin Costner and now streaming on Peacock.
Noelle's parents were golf fanatics, and as a young child, Noelle would go to the course with her father and hit the ball around. Her mother was a fan of Phil Mickelson and the pair would watch tournaments like the Masters together. Now, Noelle is pursuing her own golf game and has taken lessons throughout the pandemic.
While Noelle hasn't devoted much time to reading articles or books unrelated to work, she plans to use this year to read more books for pleasure. "This year I am starting with A Promised Land by Barack Obama."
"The only thing that keeps me up is when I can't figure something out. What makes me sleep well at night is when I have completed everything I intended to do for the day."
Rocky Mount, NC may always be home for Noelle, but through her mother's encouragement, she moved away from her hometown and experienced more of what this country has to offer. "I'm so thankful my mother pushed me to go after the things I wanted in life, I wouldn't be where I am today without her."