On May 12, 2020, I embarked on a rather life-changing journey. I had attended a webinar earlier that month and was introduced to the amazing Pamay Bassey, Chief Learning Officer at Kraft Heinz. Pamay shared about her recent year-long challenge called "365 Days of Learning," where she learned something new and shared about it every day! But she did not stop there, she inspired a whole learning movement at Kraft Heinz through this challenge! Intrigued and hungry for something new in what was turning out to be a very upside-down year, I set out on my own #365DaysOfLearning journey.
LinkedIn, for me, felt like the perfect place to share my learnings. I have been on the platform since 2008 but posted only a handful of times. This challenge felt scary. I had all the imposter syndrome and knew it would take me way outside of my comfort zone. And let's be honest. My main goal, besides learning, was to not embarrass myself.
So, I mustered up the courage and put up my first post, declaring to the world my intention for the next year.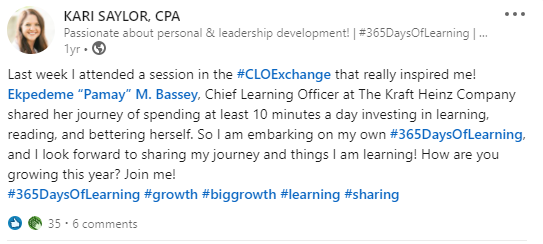 And then the days started ticking by. It was taking me a bit of time to find something to learn about, read/watch/etc. to learn, and then type up a post. My strategy was wide open as to what I was going to learn about. I covered quite a few things early on!
But then as time went on, I started to find that I was not just learning haphazardly, but was being more intentional in what I sought out to learn about. One could say that I got closer to what I was passionate about!
So, here are 10 things that I learned from #365DaysofLearning.
1. Learning became a home base.
In a year of uncertainty, learning felt like a home base for me. I knew that as long as I was continuing to grow, I would be ok. It helped me through a lot of personal struggles.
2. Forming habits can be fun!
Forget 21 days – try doing something for 365 days – it sure forms a habit! And since then, it has been hard to turn it off. I found that I am a true life-long learner, and while I might not share about it every day, I am a sponge and will continue to learn every day for the rest of my life.
3. Learning happens at all times of the day.
As a busy professional and toddler mom, sometimes learning became a 10 pm exercise, and that was ok! A little bit added up each day. Consistency was key. And now, it is fun to look back at a full year of content I created through learning early in the morning, late in the evening, and at all times in between.
4. A new appreciation for LinkedIn
Part of what I found fun about this challenge was discovering and learning from many LinkedIn gurus about the LinkedIn platform. I did not know much about LinkedIn other than how to update my resume-based experiences. In the beginning, I had no LinkedIn strategy, and over time, I found learnings and topics that I was passionate about, and developed a "content strategy." I learned how to better structure posts, about hashtag strategy, about the importance of commenting on others' posts, and staying abreast on changes to the algorithm.
One of my favorite ways to learn was to listen in, and sometimes ask questions in LinkedIn Clubhouse rooms. I gleaned so much from LinkedIn experts such as John Espirian, Andy Foote, Lea Turner, Liam Darmody, Ariel Lee, Rachel Simon, Niraj Kapur, and many others! If you are on Clubhouse, check out the Linkedin(ternational) Club for some great discussions and learning opportunities!
5. I learned a lot more than I shared.
I learned a lot about LinkedIn (an article for another time!). I learned a lot about personal brands, hashtags, and content creation. I learned about social selling and funnels and more marketing-related topics than I have in my entire life! I learned about self-discipline and transformation. I learned about defining your vision. And I learned about a transformational self-leadership program, that I am currently enrolled in and loving.
This post is an excerpt from Kari Saylor's full article on LinkedIn. Check out the full article and connect with Kari to start your own journey of learning!