The COVID-19 pandemic has shuttered businesses and closed schools around the country and we're facing an uncertain period behind closed doors. For parents, balancing work and childcare while at home will be tricky, while others will simply get antsy being cooped up.
It's not an ideal situation for any of us, but here are some ideas to get you moving and focused on positivity during these unprecedented times.
Go outside
Barring any further medical advice, it's still safe to enjoy the fresh air (just maintain the appropriate distance)! And it's even a healthy, natural way to purify your lungs. Processed air contains many contaminants and by enjoying a brisk walk you fill your lungs with clean, fresh air instead. If you can't take a walk, maybe bring your next phone call outdoors — you can enjoy the benefits of the outdoors in a lot of different ways.
Cabin fever is real for all of us, but perhaps most of all for the youngest generations. Getting the family outside creates lasting memories while making sure children are properly exerting themselves. Make up a game or teach them your favorite game from when you were a child — Simon Says or Mother May I, perhaps?
Start a garden
Besides just walking outside or sitting on a patio to enjoy fresh air, gardening is another fantastic way to enjoy the outdoors. For parents, gardening projects offer another opportunity for children to participate, help, and learn. Plus, planting healthy vegetables will present more rewards later in the summer.
Though getting outside is another healthy bonus, not all plants need to be grown outside. You can grow great kitchen herbs like basil, thyme, and parsley right on your windowsill!
More interested in the beauty and smell of your garden rather than the taste? Check out this fun list of unique plants to start cultivating this season, including the Mayapple, aptly named the American mandrake.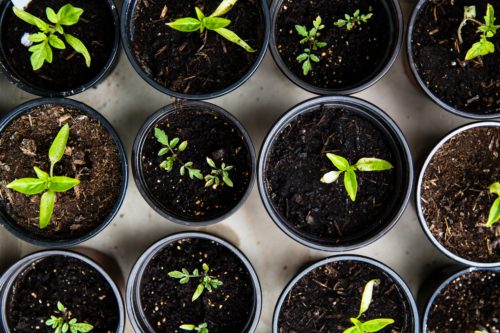 Reflect
Life with the pandemic is uncertain and presents unique challenges for each of us. In such a tumultuous time, it's critical to create the time and space for yourself to reflect on your day and thoughts. Starting a meditation practice or even journaling daily will help exercise your thoughts and bring a necessary calm in a chaotic time.
Meditation is more straightforward than people may think and doesn't require as much zen kerfuffle as most people imagine. Just find a quiet space to take a few deep breaths, and pay attention to your thoughts and emotions. Just like the pandemic, these feelings are but a point in time, and will pass to something more positive.
Journaling works similarly to meditation in that it helps get your thoughts and emotions out. By putting things on paper, you also improve your memory and help yourself fully process information. Not to mention, daily writing also helps improve your communication skills.
Keep moving
Your local gym probably closed by now, but never fear! Many gyms, trainers, studios, and more are offering unique solutions and ways to stay fit while staying safe inside.
The Nike Training Club app offers a portable virtual workout library that can be accessed across tons of devices. The app includes videos for all workout skill levels, meaning even beginners in your house can join in with the workout. Not only that, but the app also includes bodyweight-only and full equipment workouts, meaning you don't have to worry about having proper equipment!
For those eager for movement but aren't terribly workout inclined, stretching and yoga are still great ways to stretch your muscles and create some peace of mind without working up a sweat. Easy stretches and yoga routines can be found anywhere on YouTube!
Get creative in the kitchen
Besides enjoying outdoor activities or home exercise, the time indoors represents an opportunity to try fun, new recipes for dinner. Here's some fun, quirky but healthy ideas for your kitchen!
Mix up your tacos without using meat by adding a protein like beans, lentils, mushrooms, or cauliflower. The secret here isn't the meat, or its absence, but rather the seasoning: try some new spices and see where it takes you!
Get a square amount of nutritious vegetables in a single serving by sticking to soups! A creamy lentil or a split pea soup still packs flavor without skimping on the nutritional value. Check out this full list of soups that help make meal planning quick and easy.
And this is just for ideas! You could read a book, have an at-home date with your quarantined better half, or host a virtual trivia night! Poke around your own house or yard to find other ways to stay healthy and positive while staying home.