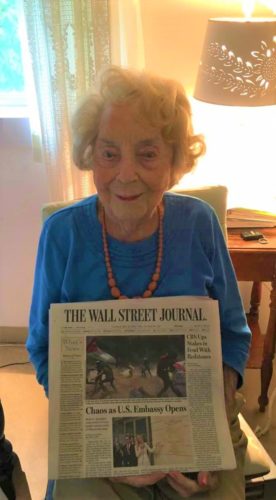 My great grandmother, Downing Jett Kay, was born on November 23, 1907 which means she is just a few weeks shy of being 112 years old! That makes Gramma D, as she is colloquially addressed, the oldest person in the state of Maryland, the 18th oldest person in the United States, and the 65th oldest person in the world (if we're trusting Wikipedia).
Gramma D has survived two world wars, the Great Depression, and 20 sitting US presidents. She has witnessed the invention of some of the most profound, life-altering, and influential developments of the modern age: the Ford Assembly Line (1913), passenger airplanes (1914), the ratification of the 19th amendment (1920), televisions (1927), antibiotics (1928), and computers (1936), just to name a few.
She is so seasoned that, every year, she must submit a picture to the government holding a newspaper with the current date to prove she's eligible for social security — by still being alive. And yes, she is still 'with it.' In fact, her favorite topics to discuss with me include when I am getting married and why I am not already married.
Every year Gramma D is interviewed by another newspaper or television program, like the time she was interviewed by Amy Schumer. Gramma D is often asked to explain what the secret to the miracle of maintaining her status as a supercentenarian is. Without wavering, her response has remained constant: "drinking lots of coffee and maintaining strong social ties."
While we applaud Gramma D for the length of time she has lived on this Earth, what she has done with that time is what makes her truly admirable. I have learned a significant amount from this amazing woman but here's a handful of some of the most important lessons:
Never underestimate the value of a handwritten note
Thank yous, thinking of yous, birthdays, Valentine's, congratulations, sympathies, whatever it is, the handwritten note is a powerful source of human connection. Don't let it die with the age of technology.
Stay connected
To this day, Gramma D has a standing game of Scrabble on Wednesday nights, is a member of the Philanthropic Educational Organization (PEO), and is an active member of her church, among other commendable engagements. Join organizations, find ways to get involved, and give yourself a reason to leave the house. Experience life to the fullest with those around you.
Vote
Gramma D was 13 years old when women earned the right to vote and she has not missed an election since she was eligible. Educate yourself and exercise your rights to participate fully in your fortune as a United States citizen.
Remain active
At 111, the lady still goes to her retirement community's Zumba class on a weekly basis! Walk whenever you can, ride a bike, keep your body moving. Finding time to be active keeps your physical and mental health in check.
Make new friends, but keep the old
Gramma D has always emphasized the importance of family and friends and holds court by the phone every evening calling up various relations to ask about their lives. When interviewed by the Baltimore Sun, Gramma D explained, "I'm always interested in other people, I think that makes a difference." Our lives will have many different phases. Find the value in each one and forge bonds with the people you share them with.
There is much to be learned from those who have witnessed it all! I hope these lessons from a wise old lady will inspire us younger folk to live more meaningful lives.