What was the last book you've read? Up until the last couple months, I always dreaded that question at work, in interviews, and even just with friends. I would always convince myself that I didn't have time and that reading wasn't worth it.
When I reflected on my reasoning for not reading (not having the time), I realized how often I binge movies, TV shows, and even podcasts. After reflecting, I asked myself "What about an audiobook?" A lot of people think listening to an audiobook isn't the same as reading and is cheating, but I don't see it that way. Audiobooks provide an alternative way to consume written content and their application is so much broader than staring at a white page with black text.
After reading a ton of reviews on The Perfect Marriage, I decided to take my first stab at an audiobook. Little did I know, there were so many scenarios where I found myself having plenty of time to listen to and engage with something.
I downloaded this first audiobook in October, and by the time the new year came I had already listened to seven books! That may not seem like a lot to avid readers, but for someone who hasn't read a full book during their free time in years, it felt like a true accomplishment.
There have been a couple things that have helped me stick with these audiobooks and get the most out of them. Read on to learn some helpful hacks for doing audiobooks right.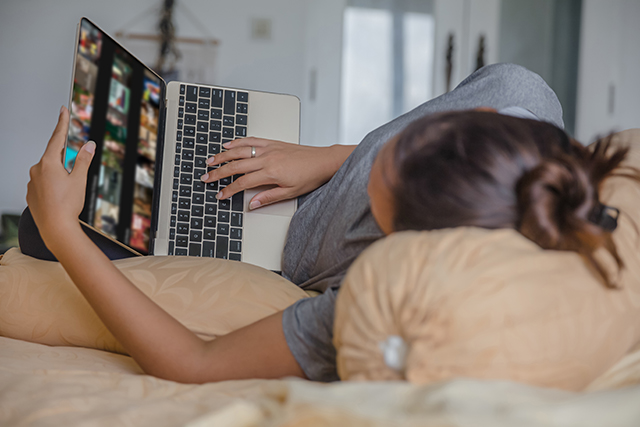 Stick to genres you love to watch
This one's pretty straightforward: if you love murder mysteries on screen, fictional or not, you'll probably enjoy some Agatha Christie, or Gillian Flynn for a more modern persuasion. Think of the movies or TV shows you most enjoy and search for similar genres or storylines. For me, I love murder mysteries and super scary movies, so that's where I started. I started with The Perfect Marriage, The Woman in the Window, And Then There Were None, and A Stranger in the House, and The Silent Patient. They were all filled with drama, plot twists, and I couldn't stop listening!
Think about all your idle time
Picking up a new habit is hard and takes time, which is scary when you're operating under the idea that you don't have enough time to begin with. But we all enjoy the same 24 hours in a day, and if you stop and think about it, there's more than a few moments where squeezing in some audiobook time is not only easy, but efficient. I had time in the car, while I was cleaning, doing my face routine, working out, and even just when I was sitting and browsing social media. More than just enjoying the stories, I felt like I got more out of my time.
Read reviews
Speaking of making the most of your time: the biggest thing for me was that I didn't want to find a book no one has ever read, be disappointed by the story, and feel like I wasted my time. If people in the reviews can vouch for it, at least I know there's something someone found valuable or interesting inside! My personal favorite review sites are Goodreads, LibraryThing, and Reedsy Discovery.
Pick one a friend has read
Life is better with a buddy! When a new TV show or movie comes out, everyone wants to talk about it. Audiobooks are the same and are more fun to share than independently enjoy. Reach out to your friends and get their love for stories rekindled with audiobooks. No one ever said book clubs must be at the library with strangers: you can have your own unofficial book club within your friend group!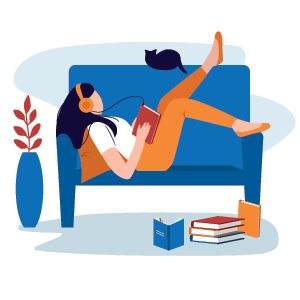 Choose one that's a reasonable length
Even though listening is less demanding than sitting and reading, a double-digit audiobook run time can be daunting. If you see a description and it's well over 10 hours long to listen to, that can immediately deter you. Progress and completion are psychologically rewarding: I personally try to stay within the eight to 10 hours range, and if I listen for an hour or more a day, that's one book done in a week!
Change the speed/narrator
The beauty in audiobooks is that you can listen anywhere, at any speed you wish. Sometimes, I find that the narrator is talking too slowly or maybe there's an exciting plot twist coming and I want to get to it faster. Cranking up the speed helps me squeeze even more enjoyment out of my time and keep the books rolling.
These six tips have helped turn me into an audiobook addict! If I'm feeling stressed, bored, or even while I'm doing mindless activities, audiobooks are a perfect outlet, and I can't recommend them enough!