A marathon takes months of planning, preparation, and anticipation. After more than a year of training and waiting, I ran the NYC Marathon on November 4. But, just a few hours after finishing, I found myself dealing with an unforeseen and upsetting reality.
Gearing up
During the final week of preparations, I made sure I had the perfect race gear, fuel, and even a marathon inspired manicure! Someone at my company introduced me to a new Professional at Siegfried (Scott), who was going to be photographing the marathon for a running publication called Tempo Journal.
Scott and I instantly connected over the excitement of the marathon — it was my first time running one and Scott's first time photographing the NYC marathon. As part of my preparation, I coordinated with my family and friends who were coming to cheer me on the exact corners and miles where I could look forward to seeing them, knowing their presence would give me a push through the end of the race. Secretly, I was even more excited to potentially have some professional pictures from the race and another cheerleader on the course.
Working toward perfection
As race day approached, I put more and more pressure on myself to make race day "perfect." Throughout my training I had told everyone that I would be "one and done" with marathons, making this race my first and last shot at living out my marathon dreams. For someone who is infamous for getting terrible race pictures or missing the cameras on a course completely, I was determined to look for the race photographers and smile at every opportunity.
Everything was perfect that morning: the weather, my customized "Lily" shirt, the anxious excitement running through my body, and the thousands of people around me. The NYC Marathon travels through every borough, taking runners on an epic tour of the city and along a route packed with spectators for nearly every mile. When the gun went off, I was more than ready to finally see what this race was all about; I had run parts of the course almost every weekend and put myself through multiple 20-mile runs, even the day before flying to Las Vegas for a four-day trip, to prepare for this day.
In the race
The first few hours, and miles, flew by in Staten Island, Brooklyn, and Long Island City. I ran by friends and teammates that I had trained with and enjoyed every moment. Coming into Manhattan, which signifies the last 10 miles of the marathon, things got hard. I began to count blocks until I would see family and friends, I fist pumped people as they cheered my name (thanks, custom Lily shirt!) to take my mind off things as my energy waned.
Around mile 21, moving as fast as my legs would take me, I heard my name! Toward the end of the race, as my tunnel vision intensified, I'd forgotten where my family and friends would be stationed. But, I realized that Scott, whom I had never met in person, was calling my name. I turned to my right, full of surprise and wonder, and Scott captured a magical moment.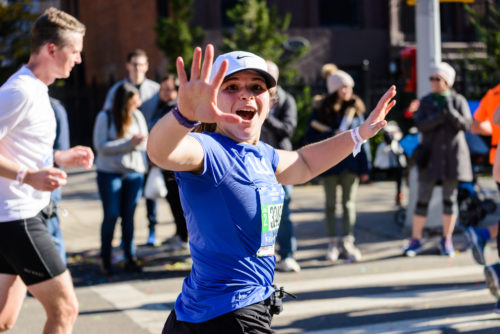 With less than six miles to go, I had my sights set on the finish line in Central Park. I hit that line and never felt better. As my family and friends surrounded me to celebrate, we realized that pictures from the professional photographers were starting to trickle in. I was checking constantly, so eager to see the pictures from the professionals that I had keenly staked out on the course.
Later on that evening, Scott generously sent me his pictures, an amazing reminder of my accomplishment and joy throughout the day. I shared them with my family and friends, so excited to show them what he captured.
An unwelcome surprise

The following morning I immediately reached for my phone, eager to see if any professional pictures from the course had been posted and my jaw dropped! Instead of seeing me, I saw pictures of a middle-aged man, running along the course and grinning ear to ear with his medal afterward. He had the same bib number as I did, but his wasn't real.
In an effort to take part in a monumental day that requires a challenging qualification, or being picked in a very competitive lottery, or raising upwards of $5,000 for charity, people bib copy. This brazen and unapologetic forging of an official race bib was something I'd heard of, but never thought would impact me.
I'm fortunate that I had Scott on my side that day! Without him, I wouldn't have a photographic reminder of my achievement. His photos are now "Instagram famous" as I have enjoyed using his amazing shots to memorialize the day. His pictures truly captured everything that day meant to me and I am so grateful that we were connected through Siegfried.
Photos courtesy of Scott Rettino.