Air that was once frigid has been getting a bit warmer, and a sky that was once dark has been staying lighter longer. Spring is in full effect (especially on the East Coast), but a lot of us may still have some of that winter clutter hanging around our living spaces.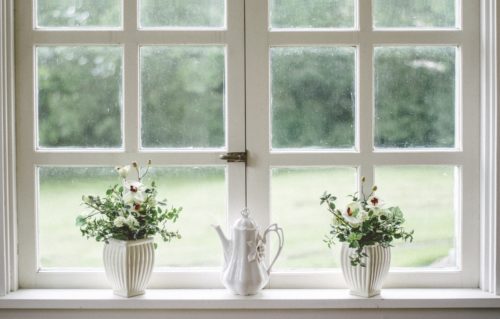 And that's just physical clutter…winter can leave mental clutter behind as well.
It's not uncommon to do a deep clean of our homes this time of year. Many of us feel the urge to spring clean — opening windows, bringing in the fresh air, and getting rid of that pile of clothes accumulating in the corner of the closet. But just as we spring clean our homes, it never hurts to spring clean our minds.
Mental spring cleaning
Spring is a time for rebirth. And while it's helpful to tidy up any physical clutter around you, it's equally helpful to tidy up your emotional and mental clutter.
What is mental clutter, exactly? It's different for everyone. But, it's really just the junk that's floating around in our minds, making us think the worst. It's the emotions and feelings that keep us in the failure or frustration mindset, and stop us from getting where we want to be.
Declutter your mind
We want clarity and peace in our lives. Decluttering our minds (and our homes!) can help us achieve that. Something we reinforce at Siegfried is the importance of regularly sitting down in a quiet space and spending time thinking about yourself. Identifying what's valuable to you and understanding why it's valuable.
This conscious exercise of thinking about yourself is the first step of mental decluttering. But, to be honest, you need a clutter-free space to do that kind of thinking in. So, if you're ready, it's time to turn up the music and start cleaning!
Playlist highlights
To help you get motivated to clean (which is hard to do!), we loaded up a playlist with songs that will certainly hit all the feels of spring cleaning and save you the extra hour of searching through the vast library of music that's available to us these days.
This playlist will give you the energy to do all the heavy lifting, with songs like Kickstart My Heart from Mötley Crüe; it will motivate you to keep pushing through during that midway hump with Crazy in Love from Beyoncé; and it will wind you down with the serenading melodies of Bon Iver's Holocene.
Spring cleaning (of the mind and home) is hard work and requires energy. But once it's done, I hope you can rest easy knowing that your mental state is as refreshed as your physical one. (And you had some great music to help you along!)
This post was originally shared on April 25, 2019.