Ah, it's that time of year! Jingle bells are jingling, carolers are singing, and grocery stores everywhere have a line.
There's only one weekend left before Christmas, and it's a perfect time to sit down with your friends and family and watch a holiday classic or two. Maybe It's a Wonderful Life, or How the Grinch Stole Christmas (one or all of the versions), or Elf. One of our favorite things about holiday movies? There's always some kind of lesson we can learn.
So, without further ado, here are some of our favorite holiday movies and the lessons we learned from them.
How the Grinch Stole Christmas (1966, 2000, and 2018)
The holidays are a good time to reach out to others. Everyone's situation is different, and the holidays can be a difficult time for many people. A simple text or call to check-in with someone who may (or may not) be struggling could really make a difference. The Whos down in Who-Ville included the Grinch with open arms and even let him carve that roast beast.
Christmas doesn't come from a store. While presents are a very exciting part of the holiday (whether you enjoy gifting or receiving), it's how you choose to spend your time and the people you choose to spend your time with that matter.
Transformation is easier with the help of others. Positive change ultimately starts with the individual, but when you surround yourself with the right people who can positively impact your life, that change can become exponential. Cindy Lou wanted nothing more than to include the Grinch in the celebrations, and being around the right person was a pivotal reason that the Grinch's heart "grew three sizes that day.
A Christmas Story (1983)
Be sure to drink your Ovaltine. Don't get caught up in what's the latest and greatest, spend your time more meaningfully. You saw the disappointment in Ralphie's face after he spent all that time waiting for his Little Orphan Annie secret decoder and found out it was just a big marketing ploy. Time is your most precious gift; use it wisely.
If you are triple-dog-dared to do something, you probably shouldn't do it. I know this is more for kids; when was the last time anyone triple-dog-dared you to do something? Nevertheless, if you are asked to do something that doesn't align with your morals… DON'T DO IT.
You can shoot your eye out. Dreams are important. And even though nothing comes easy, you should always pursue your dreams and keep on dreaming. Ralphie continuously heard "no" and "you'll shoot your eye out" about the Christmas gift of all Christmas gifts, the Red Ryder BB Gun. Ralphie persevered and never gave up that hope and dream of waking up on Christmas morning and seeing that under the tree. Or behind the desk in this case.
The Santa Clause (1994)
Tim Allen stars as Scott Calvin in this hilarious and creative Christmas comedy flick that's been able to stand the test of time. The creativity starts with the title: you'll notice this Claus is spelled with an 'e' and that legal contract is how Tim Allen finds himself as Chris Kringle, right after knocking over the old Santa and finishing his deliveries on Christmas Eve. There's so much in this movie to love for all ages, from this hilarious doctor's visit ("If it bothers you, you should dye it, and you should diet!") and the laugh-out-loud moment with Veronica ("In your dreams, sleigh boy"). Beyond the comedy, the movie serves as a lesson for all of us to loosen our grip on reality and just enjoy the ride. If the kids can give in so easily, why can't we do the same to experience some joy and positivity? But do yourself a favor: skip those horrendous sequels and revel in the beauty of the original.
Donald Duck: Stuck on Christmas (1999) 
This short children's film from Mickey's Once Upon a Christmas anthology stands head and shoulders above the rest. The plot focuses on Donald Duck's sons, Huey, Louie, and Dewey, as they wish for Christmas to be every day. The boys soon find th
emselves reliving the same day with the same scenarios each time. The humor is great and there's lots to love in these classic Disney animations for young and old alike. One of the best moments is when Donald's sons come barreling in for dinner, eating without manners and sending Donald into a fit that Daisy can't help but to scold. It's classic Disney charm mixed in with a lasting lesson throughout the short: what makes Christmas special is its finality. If Christmas were every day, it would no longer feel like a moment to spend time with family. And that's why Christmas is not about presents, but rather about being grateful and enjoying the moment with those you love.
It's a Wonderful Life (1946)
The obvious one here, if you've never seen it, is don't wish that you'd never been born. After a series of increasingly frustrating events send George Bailey to a dark bridge in a snowstorm on Christmas Eve, he contemplates the worst. Ultimately, an angel named Clarence pulls him back and proceeds to grant George's wish to see what the world would have been like if he were never born. George revisits important moments from his past, and learns that even though he may not have seen it or appreciated it at the time, his life was a gift to so many.
Always appreciate what you have — even if it's not what you planned to have! 
Scrooge (1951)
This is one of many adaptions of Charles Dickens' A Christmas Carol, but the message is the same. (It's also where "Bah, humbug!" comes from.) Don't wait to be a kinder and more generous person. On Christmas Eve, Scrooge, a bitter old man, is visited by the ghost of a former business partner, who wanders the Earth entwined by heavy chains and money boxes forged during a lifetime of greed and selfishness. Scrooge is subsequently visited by the ghosts of Christmases Past, Present, and Yet to Come. He wakes on Christmas morning a different person and changes the course of his life, and as a result, the lives of those around him. A single act of kindness can change the world.
Honorable Mention: Love Actually (2003)
Just for this scene: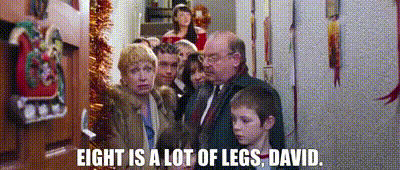 Happy holidays, everyone!
This article was originally posted on December 20, 2019.